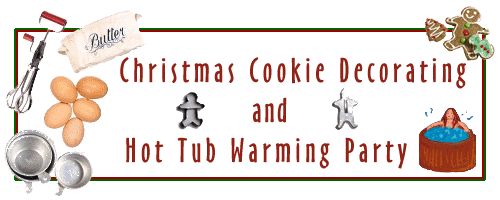 TAKE TWO

Sunday, December 20, 1998
13800 NW Mill Creek Drive
(Murray Blvd. exit off Sunset Hwy.)
from 3:00 p.m. until whenever the last person finally oozes out of the hot tub
| | |
| --- | --- |
| | Want to make sure Santa leaves you toys and not lumps of coal in your stocking this year? Make him some delicious christmas cookies. Not the kind all the other boys and girls leave him... No, that won't do at all. Your cookies have to be special, if you want to get Santa's attention! |
| | |
| --- | --- |
| We'll supply cookie dough and decorations. Bring any cookie cutters you have (the more unusual, the better), and any special cookie decorations you want to share. Why settle for traditional old christmas tree cookies, when you can make christmas rabbits, or anatomically correct gingerbread men (and women). | |
| | |
| --- | --- |
| | Although we won't hit you over the head with a rolling pin if you want to make traditional cookies, creativity is encouraged. So start coming up with ideas now. Santa Claus is coming to town, and you don't want to disappoint him! |
When we're all done decorating, we'll jump in the hot tub and talk about who's been naughty and nice this year (bring a towel). Remember, Santa "sees you when you're sleeping, he knows when you're awake, he knows if you been bad or good..." so you better bribe him with something, for your own sake!

RSVP - lisa@lifepsycles.com or wm@leler.com

or call 350-0507

...of course you can just show up without telling us, but we may put you to work making more cookie dough.